Ten years ago, Hubbell Realty Company began the Hubbell Extreme Charity Golf Classic at Copper Creek Golf Course. The day is designed to highlight three local organizations who work within the Central Iowa community and give back each and every day. The three local charities are chosen and voted on by Hubbell associates and get to be involved in a day full of golf, games and fun!
The day itself started following an event called the Hubbell Extreme Build, which began in 2006. The Build occurs every 3-4 years so Hubbell CEO Rick Tollakson created the golf event to celebrate local organizations during the off years of the build. Over the years, Hubbell has celebrated a vast array of organizations including: Alzheimer's Association, The Homestead, Easter Seals, Puppy Jake, Big Brothers Big Sisters and many others.
"It's important that we highlight and showcase our local nonprofits and charities. They are at the grassroots level and really impact people from all backgrounds and give people, pets and places a foundational starting point to which they can grow," said Tollakson.
In 2018, golfers and participants were able to raise $49,500 for three charities, setting a new Hubbell Extreme Charity Golf Classic record.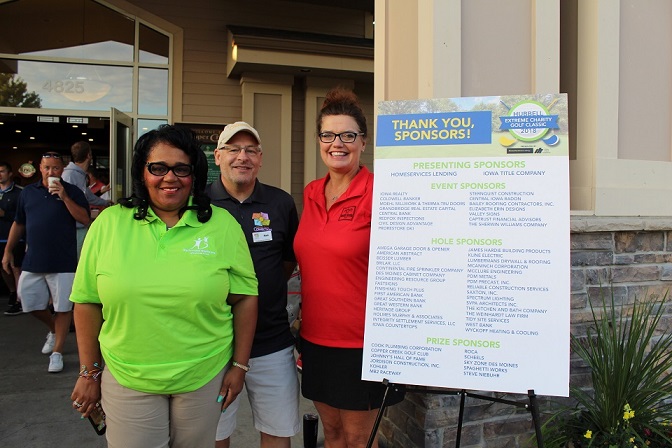 (From left to right: Big Brothers Big Sisters, Children's Cancer Connection, Easter Seals)
This year, the Hubbell Extreme Charity Golf Classic, presented by Plumb Supply & Kohler, will be raising money for Chrysalis Foundation, Community Youth Concepts and Polk County Housing Trust Fund.
Chrysalis is a foundation built around the safety, security, education and economic empowerment of girls and women within central Iowa's communities via grants, community education and donor support. Today, Chrysalis provides outstanding Chrysalis After-School programs, ongoing mentoring opportunities, scholarships and a women's alliance comprised of more than 75 partner organizations.
Community Youth Concepts (CYC) engages and connects Iowa students through youth development programs and provides coaching, training and technical assistance to best serve youth-based nonprofits. CYC uses their national and local partners to give Iowa students high-quality opportunities in areas such as STEM, Mentor Advantage Program, Teen Outreach, Youth Volunteer Corps and more.
The Polk County Housing Trust Fund is an organization based on the comprehensive planning, advocacy and funding for affordable housing in Polk County, Iowa. The money raised through Polk County Housing Trust Fund helps fund safe, stable affordable housing for those who need it to continue living, working and playing within Polk County.
There is still time to donate or participate by purchasing raffle tickets at hubbellextreme.com.