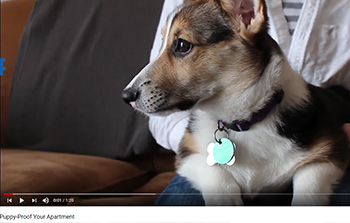 It's no secret that some of our very favorite residents have four legs. We love welcoming new pet into our pet-friendly communities. There's a lot that goes into adding a new furry family member, especially if you want a puppy. You or your family will want to factor in things such as breed, size, activity levels, cleanliness and all of the costs associated with getting a new puppy before bringing your furry friend home.
Breeds & Sizes
There are more than 300 dog breeds ranging in size from a few pounds to nearly 150 pounds. The Chihuahua and Bichon come in at the smallest, while Great Danes, Mastiffs and Saint Bernard's take the crown in the heavyweight category. For those who like clean and tidy spaces, long-haired dogs such as Huskies and Collies can mean big-time shedding, although many dogs shed at least twice a year. If you love dogs but suffer from allergies, a Poodle-cross, terriers and even hairless dogs are an option.
It's also important to consider social skills with kids and other dogs when choosing a breed. Some dogs are known to prefer space; others are protective, but most downright want to be loved.
Puppy-Proofing & Training
Introducing a puppy into his or her new home and potty training are two big obstacles to tackle right away. Most likely, your puppy will be between the ages of 8-12 weeks old when he or she comes home. Give your puppy a tour of your home, his or her food bowl, and crate or pillow. Begin calling them by name and make slow introductions to other pets and friends.
Some breeds, like Border Collies and Retrievers, are more attentive and willing to learn, while others are a bit stubborn and may require basic obedience class. Potty training should begin immediately and everyone in the house should be on the same page. It's important to enforce the rules - whether that means going outside or on a potty-pad.
Activity & Fitting Your Family
Activity levels go hand-in-hand with choosing your breed of puppy. After all, they will grow into an adult in a blink of an eye. If you or your family are fond of adventures and staying active, be sure to get a dog that can keep up with your lifestyle such as Retrievers, Boxers or German Shepherds. On the flip side, there are dogs who love nothing more than affection and a good couch cushion like Bulldogs, Mastiffs and Pugs.
Take into account the size of your home and outdoor space, as well. It makes sense to have a smaller or less-active dog if you live at a property with little to no outdoor community space. If you have the "room to roam" with dog parks or expansive green spaces nearby, your options of breed can broaden.
Extra Costs
Initial costs need to be factored into getting your puppy: the upfront breeder fee, puppy chow, crate, padding, leash, collar, toys, bowls and finishing the first round of veterinary care. It's also important to note after 6-months-old, spaying and neutering is recommended.
However, there are costs that may not be as easily foreseen. If your puppy acts out, additional obedience classes may be necessary. Illnesses, injuries and allergies are also unfortunately hard to predict. Many breeds are susceptible to canine cancer, breathing issues or arthritis, while canine-to-canine disease can also be spread. Continued vet care is also a cost which needs to be considered.
Adopt, Don't Shop
One more important aspect to consider is adoption. According to the ASPCA, roughly 3.3 million dogs enter animal shelters every year and nearly 650,000 of those are euthanized due to waiting too long for a new home, illness or behavioral issues. Adoption is also often times a more affordable route than buying directly from a breeder. The Shelter Pet Project offers help to narrow your search or reach out to your local shelter.
Many of Hubbell Apartment Living's apartment communities are pet-friendly and welcome your new puppy.