Hubbell's newest and funkiest property has hit the downtown scene, right next door to the Wellmark YMCA. For Des Moines apartment-seekers, this community checks all the boxes and is the perfect place to live (promise we're not just saying that because we're biased). Need 5 reasons you should live at Carbon 550? Perfect, you got it.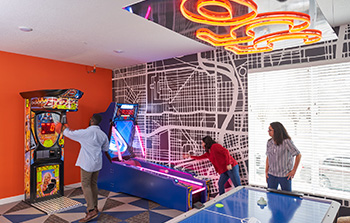 1. The neon arcade & game room
This unique amenity sums up Carbon 550 as a whole: funky, fun, and a great way to connect with friends and neighbors. Located just across from the Community Room, the Arcade & Game Room features an air hockey table, skee ball bowling alley, and boxing game under the glow of our neon 550 sign. If gaming isn't for you, the space also has plenty of seating for onlookers and cheerleaders.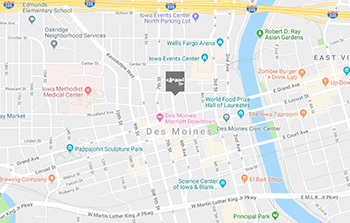 2. Proximity to entertainment in Des Moines
Carbon 550 is within walking distance from your favorite downtown attractions including: Court Avenue, Wells Fargo Arena & Iowa Events Center, Civic Center, Western Gateway Park, and so much more. As a resident, you have your pick of entertainment, shopping, and restaurants at your fingertips! Visit the interactive map on Carbon 550's website to see just how close your favorites are.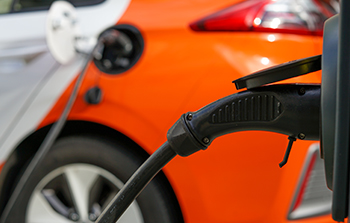 3. Underground parking & electric car charging stations
Electric cars are slowly gaining momentum here in the Midwest, and we want residents with every type of vehicle to have options. Carbon 550's secure, heated, and covered parking garage eliminates the need for scraping in the winter, and a quick elevator ride brings you directly to your apartment floor.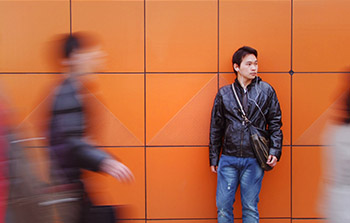 4. Direct access to the downtown skywalk system
Morning commutes are the worst, there's no debate. What if there was an apartment community that put you 1 minute away from the Downtown Des Moines skywalk system? Pretty perfect, right? Now, what if that same apartment community was located within walking distance of dozens of corporate offices including Principal Financial, American Enterprise Group, Aviva Life & Annuity, the Ruan Building, and 801 Grand. You're going to be stoked: this community does exist and it's Carbon 550!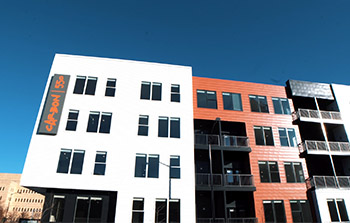 5. The ability to #LiveYourElement
Without a doubt, the best reason to live at Carbon 550 is the way the community helps its residents find and live their element. Feeling creative? Craving adventure? Building a career? We've got you covered. There are resources and opportunities to explore everything Des Moines has to offer. Head to Carbon 550 today to learn how you can live your element!
If these 5 reasons still haven't convinced you to move into the newest Hubbell Apartment Living community, make sure to swing by Carbon 550's Ribbon Cutting and Grand Opening on Tuesday, May 26th from 4:00-6:00 pm!