There's no doubt the housing market is on a steady upward tick. Within the last year, land sales have joined the popular purchases for those looking to build custom homes on a specific piece of land in a specific neighborhood.
In the case of Hubbell Land Development and New Home Site Realty – both of which are based out of Central Iowa - as well as Boyer Young Land Development, out of Omaha, Nebraska, land sales are keeping our teams moving at a clipping pace.
For April Bitterman Breig, Vice President of New Home Site Realty, Central Iowa sales have kept her running to-and-from communities like Waukee, Grimes, Ankeny to Norwalk. Breig, who started selling land with Hubbell in 2003, recently sold out of two communities in West Des Moines and Waukee.
Q: How did you have to adapt your land lot strategy over the last year and into 2021?
A: My clients know me well, especially after working in this industry for more than 20 years. They know that I will help them find the lots to build in neighborhoods where they are going to be the most successful in selling their homes. While we all had to adapt to COVID-19 and the ways we showed our inventory, I don't feel as if I had to adapt too much.
Q: What current trends do you see in lot sales?
A: When you build it, they will come. Thankfully, I work for a developer that builds neighborhoods while keeping the builders needs in mind. The developer won't purchase just any piece of land regardless of price or location. If pricing, location, and amenities don't work for our clients on the back end, we don't go forward with that purchase. Hubbell's Land Development specialists always have been mindful of what my client's needs are.
Q: What is it like being a leading woman in this role, especially in a historically male-dominated industry?
I never thought because I was a female that I wouldn't be successful in land sales. Hubbell, nor my builder clients have ever made me feel different because I'm female. In fact, they appreciate my opinion more because I bring a different point of view to each lot.
I wake up in the morning and refuse to put myself in a box. The person I am on the inside is what defines me: I bring hard work, honesty, dedication, and loyalty every day and my co-workers and clients appreciate that.
Q: What is the outlook for 2021?
2021 is off to a great and very strong start. My relationships with my builder connections is what makes it all a success. I want them to succeed and the rest falls into place.

For Heather Dembinksi with Boyer Young Land Development, new land sales records are being set nearly every week. In 2020, the Boyer Young Team, which is led by Dembinski, sold a record 265 lots on the year, 100 more than anticipated, shattering a nine-year-old record. Inventory pressures and brand recognition are leading reasons the Omaha market is seeing this boom, according to Dembinski who recently sat down with us and the Midlands Business Journal:
Q: Why do you believe the market is trending so dramatically toward lot sales?
A: In general, we are experiencing a shortage of existing homes in the market, and that is pushing demand in new home construction. While The Home Company definitely still has some spec homes that are currently move-in ready, we are seeing more land lot inquiries and subsequently sales. Builders know the product that The Home Company can build and they have a great relationship with us.
Q: What areas are you seeing the most growth?
A: From areas like Bennington, Papillion to Bellevue, we're getting requests across the board in the Greater Omaha area. We have a trusted name and builders tend to gravitate toward our areas. They know our lots are developed correctly and that our neighborhoods are financially sound.
Q: What types of lots are the most popular right now?
A: With the Hubbell partnership, we've really been diversifying our lot portfolio. We're starting to develop smaller lots for narrower-type products to keep costs down, but our bread and butter is still in larger lots. People are searching for bigger homes so they can have a dedicated office and other home amenities. People are spending more time in their homes and with their families, so it's important to get it right.
Our best example right now is in Anchor Pointe which backs to Flanagan Lake with green spaces, trails and 730 acres of recreation opportunities.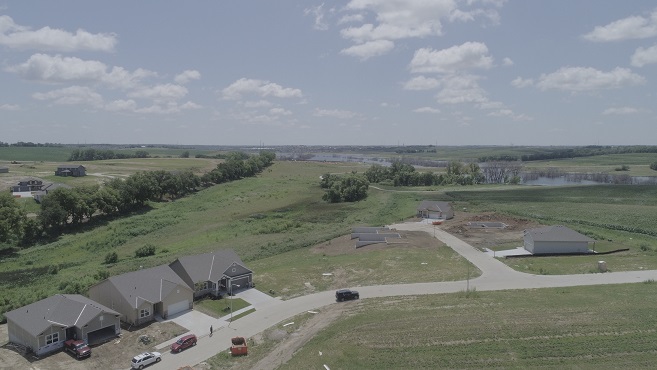 To learn more about our land development opportunities both in Central Iowa and the Omaha area, visit hubbellrealty.com or boyeryoung.com