Construction prices have gone on a wild ride over the last year. While many commodities have not rebounded from the COVID-19 pandemic, others are starting to moderately even out and, in some cases, even decrease as 2021 continues.
The material attracting most of the headlines in 2020 was lumber. In May 2020, lumber prices hit their all time high at $1,670 per thousand board feet. In many cases, this stalled projects or caused larger footprint builds to be adjusted in order to meet budgets. According to the National Association of Home Builders, the increase in lumber alone added nearly $36,000 to a single-family home price.
The current price of lumber is now more than $1,000 less than last May and some experts are predicting it may fall sub-$450 per thousand board feet by fall 2021. Not only will this make new home construction a more feasible feat, but DIY home renovations and smaller projects will likely pick up pace again as well.
Since lumber spiked, many other materials like shingles, steel, plastic resins, cement, PVC piping, and more have also increased to unprecedented heights.
According to The Associated General Contractors of America (AGC) steel prices have increased 88 percent from June 2020 to June 2021. Materials like copper and brass have increased 61 percent and aluminum are up 33 percent.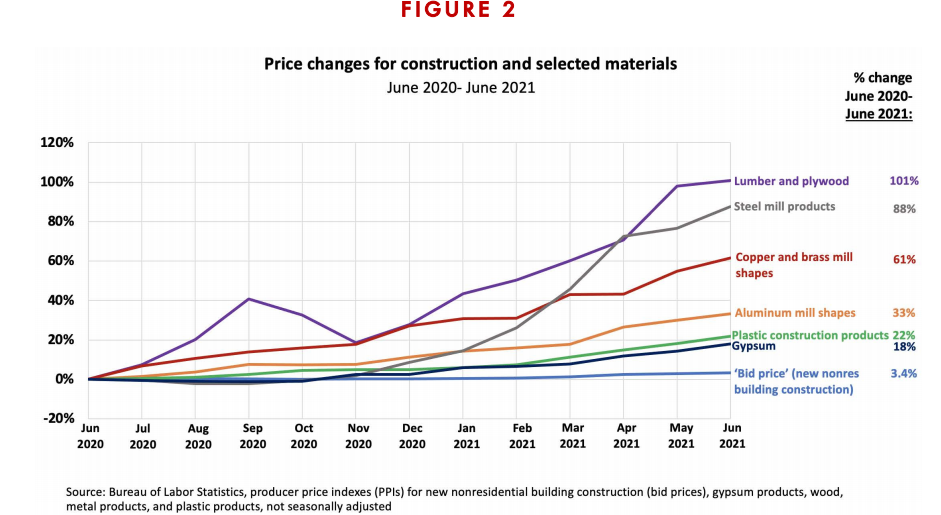 While many are getting excited about lumber prices falling, the AGC believes prices will fluctuate and there's no promises the price drops will last. Many companies, to secure lumber for future projects, locked in lumber at the previously higher price points. Even with the locked in prices and material deliveries, with so many disruptions in the supply chain, extended and uncertain delivery dates are now a common occurrence across the board, whether it's in general contracting or homebuilding.
According to AGC, "contractors have reported being told they cannot get bar joists for 11 to 12 months. Roofing contractors have been quoted production lead times for various roofing materials ranging from four to six months, with uncertain availability of fasteners and other essential items. Respondents to a survey conducted by AGC of California reported lead times of "16 weeks to unknown" for items as diverse as lockers, glass, structural steel detailing, ductile iron fittings and other pipe material, insulation, aluminum extrusion, signal poles, and airfield lighting."
Hubbell Construction Services has been able to move forward with projects such as Level, the third and final apartment community in the Bridge District, and the successful Edencrest portfoliov across Central Iowa.
In addition to the usual home offerings, Central Iowa-based Hubbell Homes and their Omaha-affiliate The Home Company, have also introduced a wider range of Discovery Collection homes that range from 1,300-1,700 square feet that start in the low-200's.
It's taking new approaches, over communication and lasting long-term relationships to weather the storm and the lasting effects of the COVID-19 pandemic.